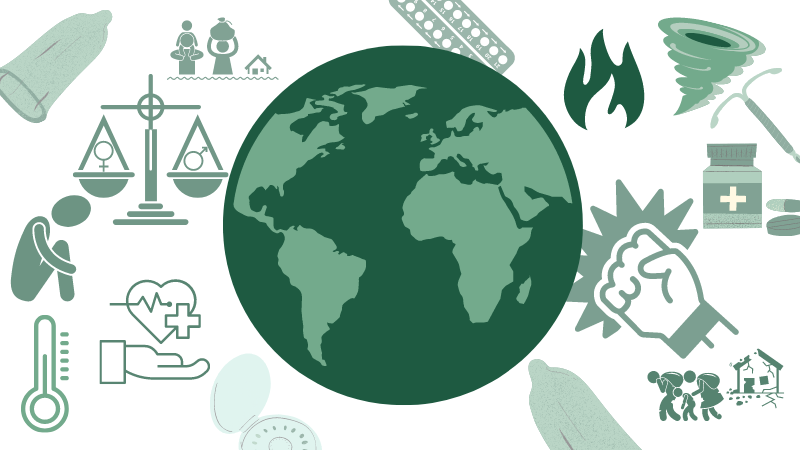 SRHR is a central to adaptations and resilience in climate change. Climate crises has its effect on women and girls but also to people of most vulnerable groups such as non-binary people.
In the interlinkage of SRHR and Climate Crises the human rights-based approach must be applied. That secures that climate crises will not be linked to population control narratives that violate the right of women of colour and women of South. Female bodies must not be a mean to solve climate crises.
Climate crises has number of effects on realisation of SRHR.
Climate Crises increases health related vulnerabilities especially sexual and reproductive health hazards e.g. insufficient access to safe water and proper sanitation with dangerous impacts on maternal health. Also all forms of crises increases the risk of sexual and gender based violence.
Ensuring SRHR builds resilience to climate crises. Bodily autonomy, including access to sexual health services and comprehensive sexuality education, people can better adapt to changing conditions and take informed decisions about our lives.
In Commission of Status of Women in 2022 Member States adopted an intergovernmental agreement, that sets out action Member States must take to advance gender equality within the context of climate change. More under this link.
Learn more
International Planned Parenthood fact pages on climate crises and SRHR and position paper
In COP26 there were a side event titled 'Advancing Sexual and Reproductive Health and Rights for Climate Change Adaptation and Resilience'. Among the speakers were Mara Dolan with the Women's Environment and Development Organization (WEDO), Heather McMullen from Queen Mary University in London (who also gave a presentation to CD2030E members during the training on SRHR and the climate crisis last year) and Zainab Yunusa who is a youth campaign coordinator with Plan International.
Video (4 min) on Climate Crises and SRHR from UNFPA