Sexual and Reproductive Health and Rights are an essential part of Universal Health Coverage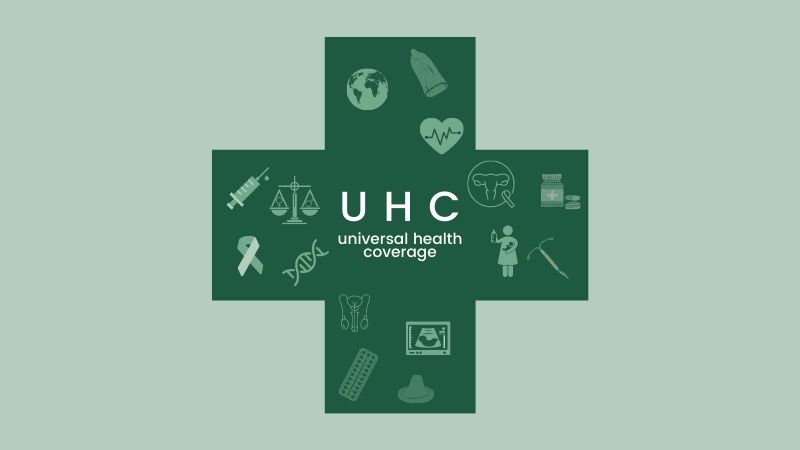 Universal Health Coverage (UHC) is key to promoting equity, global health security, development and growth. Access to health services, including Sexual and Reproductive Health (SRH) services, is a human right. All UN member States have agreed to achieve Universal Health Coverage by 2030, as part of the Sustainable Development Goals. However, in many countries people do not have access to quality health services.
"Universal Health Coverage means that all individuals and communities receive the health services they need without suffering financial hardship. It includes the full spectrum of essential, quality health services, from health promotion to prevention, treatment, rehabilitation, and palliative care." (WHO 2019).
At least half of the world's population still do not have full coverage of essential health services.
About 100 million people are facing extreme poverty because they have to pay for health care
Over 930 million people spend at least 10 percent of their household budget to pay for health.
Good sexual and reproductive health means that all individuals have a right to make decisions governing their body and to access services that support that right (Starrs and others, 2018). In 2019 UN Member States recognized that Sexual and Reproductive Health is an essential component of Universal Health Coverage.
However, comprehensive Sexual and Reproductive Health (SRH) services are not included in health benefit package in many countries, especially in low- and middle-income countries .This leads to inequality access on Sexual and Reproductive Health services and effecting especially on vulnerable population; women and girls', adolescent, LGBTIQ+ and people with disabilities.
Governments must ensure that everyone has equal access to quality health services across the life course. This needs to include comprehensive Sexual and Reproductive Health services such as (WHO):
Contraception counselling and provision
Fertility care
Antenatal, intrapartum and postnatal care
Safe abortion care
Sexual function and psychosexual counselling
Comprehensive education and information
Gender-based violence prevention, support and care
Prevention and control of HIV and other sexually transmissible infections (includes reproductive cancers)
Read more:
Universal Health Coverage (WHO 2019) 
SRHR an essential element of UHC (Nairobi Summit, 2019)