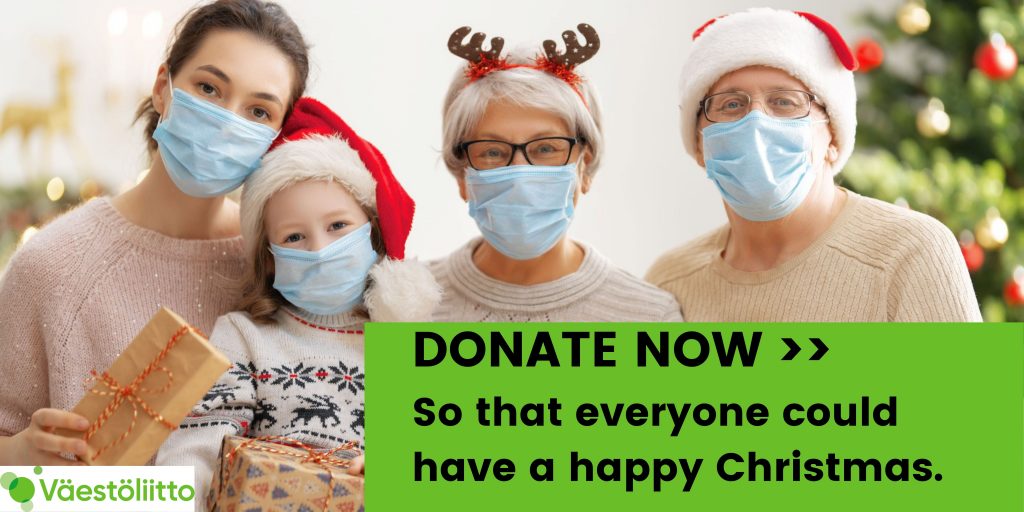 MAKE A CHRISTAMAS DONATION
"Significant relationships with others are crucial for the wellbeing of people. Covid-19 challenges the wellbeing and happiness of people this Christmas. 

The Family Federation of Finland is worried about the well-being and happiness of the population this Christmas and encourages everyone to take care of our nearest and people around us even though we can not meet each other like we normally do.

We appeal to private people and companies for donations, in order to be able to help as many people as possible in these challenging times."

CEO Eija Koivuranta
MAKE A DONATION
With the help of your donation we can support the well-being and happiness of children, young people, families and the whole population as well as the fulfillment of human rights in Finland and the developing countries.
Select your way to donate. Every donation is needed.
DONATE ON THE DONATION ACCOUNT: Nordea FI63 1745 3000 0979 58
DONATE BY PHONE (20,28 € + pvm/mpm): Call 0600 19898
As a corporate donor you can donate through the internet bank, credit cards or Mobile Pay or ask for a bill. As a thank you, you will get our electronic Christmas greetings that you can send to your customers.
CHRISTAMAS IMAGES FOR PRIVATE DONORS
Tell your friends and networks about your support. You can copy-paste the picture you want and share it through the social media or e-mail.