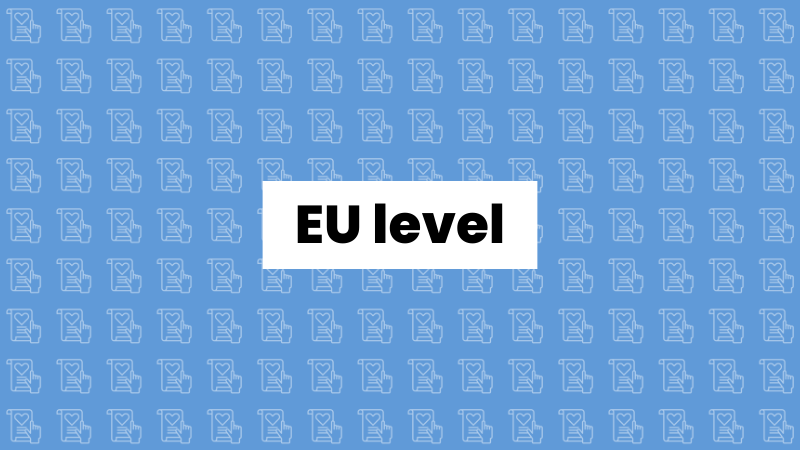 European Union, together with its member states, is the world's leading donor of development cooperation as well as one of the strongest supporters of SRHR, and family planning (FP) in particular. EU is committed to SRHR in European Consensus on Development, the joint vision for development policy for the EU and its Member states.
EU's support to SRHR globally
The European Union contributes to advancing access to and respect for SRHR through allocating it's development cooperation funds to SRHR sector. Most of EU's funding is channeled through geographic programmes, which means that SRHR needs to be prioritised in the programming phase when Multiannual Indicative Programmes (MIPs) are created for EU's cooperation with partner countries and regions. There is also a small envelope for thematic programmes, where support to health is one of the priorities. Currently for example 21 out of 45 MIPs in Sub-Saharan Africa refer to SRH through different approaches. More info on SRHR in EU's cooperation with partner countries.
There is also a Team Europe Initiative on SRHR in sub-Saharan Africa. Through this TEI the EU and ten of it's member states, including Finland, will aim to 1) increase the implementation of continental and regional SRHR commitments, including in the health and education sectors, 2) strengthen regional mechanisms to address supply-side
constraints to improve the availability, affordability, and acceptability of SRH commodities and 3) promote accountability and evidence-based policymaking and implementation. More info on the SRHR in Sub-Saharan Africa TEI.
Countdown 2030 Consortium publishes a yearly spotlight report on European donor support to SRHR. Read the latest report here.
The European Consensus on Development
The European Consensus on Development (2017) is a shared vision and framework for action for development cooperation for the European Union (EU) and its Member States. The consensus reaffirms poverty eradication as EU's main development policy objective. The Consensus contributes to the objectives and principles of EU external action as laid down in the Lisbon Treaty, and supports the Global Strategy on the EU's Foreign and Security Policy presented in June 2016 by the High Representative.
SRHR are mentioned especially in the paragraph 34, "The EU remains committed to the promotion, protection and fulfilment of all human rights and to the full and effective implementation of the Beijing Platform for Action and the Programme of Action of the International Conference on Population and Development (ICPD) and the outcomes of their review conferences and remains committed to sexual and reproductive health and rights (SRHR), in this context. Having that in mind, the EU reaffirms its commitment to the promotion, protection and fulfilment of the right of every individual to have full control over, and decide freely and responsibly on matters related to their sexuality and sexual and reproductive health, free from discrimination, coercion and violence. The EU further stresses the need for universal access to quality and affordable comprehensive sexual and reproductive health information, education, including comprehensive sexuality education, and health-care services."
Read more:
The European Consensus on Development
Global Strategy on the EU's Foreign and Security Policy (2016)
Gender Action Plan
EU's Action Plan on Gender Equality and Women's Empowerment in External Action 2021–2025 (also known as GAP III) guides EU's and its member States' external relations and development policy related to Gender issues.
GAP III aims to accelerate progress on empowering women and girls, and safeguard gains made on gender equality during the 25 years since the adoption of the Beijing Declaration and its Platform for Action. SRHR is mentioned as one of the key thematic areas of EU's engagement. GAP III promotes a transformative and intersectional approach, aiming to address structural causes of gender inequality and gender-based discrimination
EU delegations implement the Gender Action Plan by developing Country Level Implementation Plans (CLIPs). SRHR has been identified as a priority sector by several countries, in particular in sub-Saharan Africa.
Read more:
SRHR in Europe
All EU member states are bound by human rights treaties such as the European Convention, the Convention on the Rights of the Child and the Convention on the Elimination of All Forms of Discrimination Against Women. All EU member states are also united around the programmes of action from Cairo and Beijing. All these agreements guarantee sexual and reproductive rights to some extent.
Under international and European human rights law European states have the duty to take effective steps to respect and protect women's sexual and reproductive health and rights (SRHR). This means respecting a range of civil, political, economic, social and cultural rights, including right to health, to life, to be free from torture and illtreatment, to privacy, equality and non-discrimination. States should provide all women with accessible, affordable, good quality sexual and reproductive health care and services on national level and promote these rights on international cooperation.
Read more:
Council of Europe – Women's Sexual and Reproductive Health and Rights In Europe
Countdown 2030 Europe
Countdown 2030 Europe is a Consortium of 15 leading European non-governmental organizations working to ensure advancement of SRHR, human rights and investment in family planning. Family Federation of Finland (Väestöliitto) is one of the 15 member non-governmental organisation of Countdown 2030 Europe. Aim of the Consortium is to hold both EU institutions and member states accountable for their policy and funding commitments to sexual and reproductive health and rights.
Read more: Countdown 2030 Europe