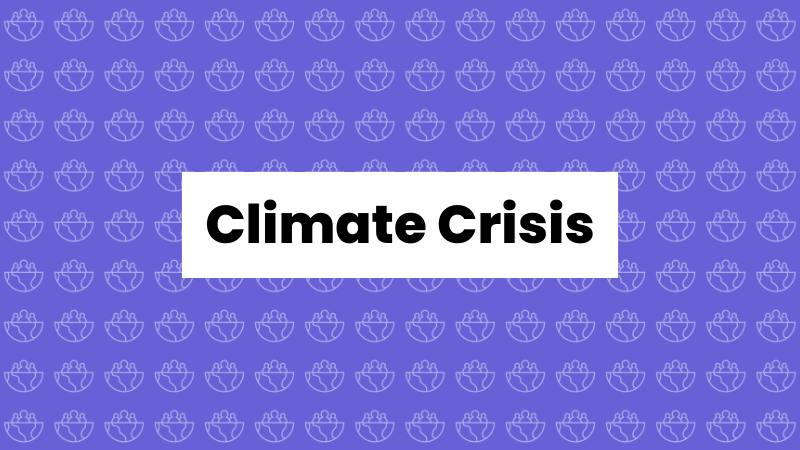 The impacts of the climate crisis on SRHR are many, but SRHR is also central to adaptations and resilience in climate change.
The climate crisis has impacts across all dimensions of sustainable development, including health, gender equality and SRHR. Some impacts of climate crisis to SRHR include reduced or unavailable services in areas affected by disasters, harmful impacts on maternal health due to heat exposure, and increased incidence of sexual and gender-based violence in situations of crises or displacement.
As the impacts of the climate crisis become more severe, adverse outcomes for SRHR will only increase. Improvement of SRHR strengthens people's resilience to the environmental and climate crises.
Inequalities and marginalization are key factors in heightening vulnerability to the impacts of climate change. Addressing gender inequality and other forms of marginalization is therefore crucial for reducing vulnerability and enhancing resilience. SRHR should be an important consideration in measures aimed at enhancing resilience to both the slow onset impacts of the climate crisis and its more immediate effects.
In Commission of Status of Women in 2022 Member States adopted an intergovernmental agreement, that sets out action Member States must take to advance gender equality within the context of climate change. More under this link.
Human rights based approach to climate crisis
A human rights based approach – and clear integration of gender equality, non-discrimination and sexual and reproductive rights – in climate action is needed. All climate action could clearly indicate how it contributes to respect for and protection and fulfillment of human rights.
Applying a human rights based approach delivers on commitments to human rights while also improving the effectiveness and sustainability of climate action, such as through inclusion of marginalized groups, including women and girls, in problem analyses and decision making regarding viable solutions in local contexts. An integrated approach to SRHR and climate actions would also be benefitial.
Environmental crises must not become a justification for instrumentalizing women's and girls' bodies and for population control narratives and measures.
As per capita emission levels in countries with higher fertility levels are currently almost non-existent compared to per capita emission levels in lower fertility wealthy countries, proposing that family planning simply reduces population growth and emission as such, is oversimplification of a complex reality and an unfair distraction from urgently needed solutions to environmental crises.
Learn more
International Planned Parenthood fact pages on climate crises and SRHR and position paper
In COP26 there were a side event titled 'Advancing Sexual and Reproductive Health and Rights for Climate Change Adaptation and Resilience'. Among the speakers were Mara Dolan with the Women's Environment and Development Organization (WEDO), Heather McMullen from Queen Mary University in London (who also gave a presentation to CD2030E members during the training on SRHR and the climate crisis last year) and Zainab Yunusa who is a youth campaign coordinator with Plan International.
Video (4 min) on Climate Crises and SRHR from UNFPA